FRENCH VS. AMERICAN HOMES
Outside the home:
Most american homes just have basic shingles for there roof it's nothing fancy. It is not designed for beauty just basic needs.
American roof top:
However in France they tend to have elegant fancy roof tops. They have hipped roofs, eaves, and dormers.

In some American homes there are terraces, but usually american homes consist of porches and decks instead of a terrace.
American Porch/Deck:
In American homes there is usually a small hall way when you enter.
American Hallway:
Instead of a hallway the French have large extravagant entrance ways when you first walk into their home. \
French Enterance Ways:
In most american homes the stair cases are very basic. There is usually one main straight sttair case leading to the top floor.
American Stair Case:
Inside french homes they often have intricate spirals stair cases.

In American homes the bathroom and showers are all loccated in one room.
American Bathroom:
However in french homes the bathroom and shower are both located in a separate room. In french culture they consider it unclean to have the shower and toilet both located in the same area. It is also considered to be more convenient by having more than one room.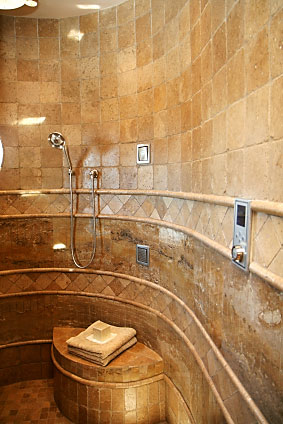 French Bathrooms:
In american homes dining rooms are medium size but normally not to extravagant. Americans tend to rush through their meal and don;t always sit down for a meal together.
American Dining Room:
In French homes the dining room tends to be more lavish due to the fact that the french spend more time eating their meals and enjoying each others company. They view meals as a time to sit back and enjoy themselves and socialize.
American homes usually have large bed rooms but how many they have depends on the size of the house.
French homes tend to have a smaller size bedrooms.
Overall these are the major differences between French and American homes.